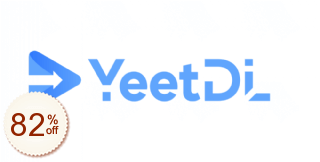 Premium License - 1 User/Lifetime
30% off $34.99
Premium License - 1 User/2 Years
30% off $20.99
Premium License - 1 User/1 Year
30% off $10.49
Premium License - 1 User/6 Months
30% off $6.99
Limited Time Offer:
Have you ever felt anxiety for having no idea of downloading your favorite YouTube video? Here I am going to introduce you an amazing software: YeetDL.

YeetDL is excellent and easy-to-use software. It provides solutions for downloading 4k/8k & Full HD videos, downloading the entire playlists, and even downloading streaming content!

What's more, these functions are totally free! However, YeetDL also has its premium license for additional functions. But don't be afraid, our ColorMango has prepared a discount code for you to enjoy its premium license!

Take a Closer Look at YeetDL:
1. Download live streaming content.
2. Support up to 8k/4k/Full HD videos.
3. Download entire playlists.
4. Video converter to MP3
5. Download 360° and Virtual Reality videos.
6. Built-in Search Engine.
7. Download Subtitles and Closed Captions.
8. Integrated Video Player.
All above are for free!

All Premium Plans include:
1. 4K and 8K videos at 60 fps.
2. Download MP3 in 192 Kbps.
3. Zero-Click, Automatic Downloads.
4. Remove advertisements.
5. Priority Support
However, a discount code is provided by our ColorMango!
Tags
Specifications
Version:

Latest Version

Developer:

Sofyeedo

OS:
Customer Q&A
Recommendations