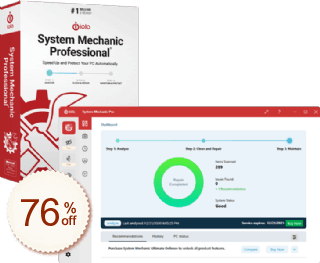 1 year service
70% off $20.98
Limited Time Offer:
System Mechanic Pro is a one-stop tool focused on system optimization with all the components needed to keep your computer running smoothly. System Mechanic Pro is a good choice for both beginners and advanced users. With the click of a button, you can instantly improve your computer's performance.
Unlike many other computer optimization tools, the interface of system mechanical pro is clear and friendly. The software has a significant improvement in your computer's performance and includes first-class protection against malware and behavior analysis to identify potential threats even if they have are unknown.
Deep cleaning
system mechanical pro provides various cleaning tools, including the unique toolset of System Mechanic. The only problem is the software uninstall tool, which allows users to select one program at a time to uninstall.
The speed-up tool is impressive and supports to speed up your network connection (which can be easily undone if necessary). Excellent startup managers are also more advanced than competitors, and each program is listed rated by iolo community, which can help you decide whether to stop it from booting up.

* The standard boot manager only displays programs that can be safely disabled at startup without causing system stability problems;
* The expert view includes drivers and system applications. Disabling them may cause unpredictable problems, so please pay attention to the warning prompt and continue when you are sure that it can be safely disabled.
The DriveScrubber tool is also impressive, not only for safely erasing files but also for cleaning USB drives. You can run this program without starting Windows, effectively erasing the contents of the system drive. If you're going to sell or recycle a PC, it's a great way to reset the computer.
Anti-Malware
These tools are powerful enough, but the best feature of system mechanical pro must the malware scanner (System Shield). System Shield allows you to check the entire system, a specific file directory, or a single file. The malware database is updated regularly.
Unlike some anti-malware or anti-virus software (including many advanced applications), system mechanical pro is not just about stopping malware. If your computer is already infected, it can also be removed entirely, which is a great way to enhance the existing security suite. Flexibility, heuristic analysis, regular updates make it one of the best anti-malware tools on the market and can be combined with other utilities to improve system performance.
iolo System Mechanic Pro is a truly useful system optimization software that stands out from many competitors, and automatic cleaning tools and malware scanners make it easier to recommend.
Tags
Specifications
Version:

21.5.0.3

Developer:

iolo

OS:

License:

Whole Home License
Customer Q&A