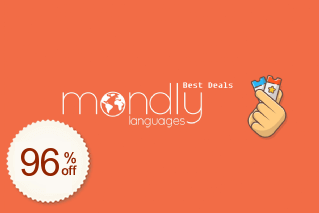 1 Language - Monthly Access
20% off $7.99
1 Language - Annual Access
20% off $38.39
41 Languages - Annual Subscription
93% off $33.59
41 Languages - Lifetime Access
96% off $89.99
Limited Time Offer:
Note
Add 8 new languages: Bengali, Catalan, Latin, Latvian, Lithuanian, Slovak, Tagalog and Urdu
Mondly is suitable for foreign language beginners, and it supports the mutual learning of 41 languages. It is really powerful.

Mondly contains 42 classified courses. Users start with the course "Hello." It also includes daily classes, Chatbot (dialogue exercises), vocabulary, and dozens of other topic courses (including family, romance, country and language, Seasons & weather, travel, preparation for travel, holiday activities, public transport, sports, food & drink, introduction, school, pets, shopping, entertainment, around the house, grammar, airport, hotel: reservation, hotel: in the room, restaurant, business, tour around the city, bank, help, doctor, emergency, animal, color & number, fruit & food, body parts).

For language beginners, the above classification courses can quickly help users master the daily use of language, a very intimate design.

Mondly users will slowly master the primary content of the course in a series of games.

In the "dialogue" and Chatbot of each course, users can input their conversation content through the microphone. The system will automatically detect it. Users can also listen to their pronunciation. If the accent is not correct, Mondly will give a prompt, which is very helpful for oral practice.

Mondly also has a daily lesson, weekly quiz, and monthly challenge to help users consolidate and strengthen their foreign language learning.
Specifications
Version:

Latest Version

Developer:

ATi Studios

OS:

iOS
Customer Q&A
Recommendations