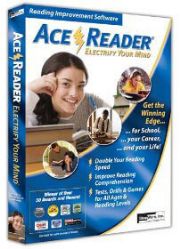 Family Edition - 2 Users
10% off $53.10
Family Edition - 4 Users
10% off $71.10
Family Edition - 8 Users
10% off $89.10
Personal Edition
$39
Classic Desktop
$69.95
Very easy-to-use software for training reading speed can effectively improve your reading speed and reaction ability in reading, which can help students improve their reading speed and be used as an auxiliary training method for people with professional reading requirements.

AceReader includes two modes: eye scanning training mode and central text mode to improve your reading skills.

In the eye scanning training mode, the text winds through the display area, forcing your eyes to move like regular reading. AceReader can be used as a teaching tool, and you can improve your reading speed both on the computer and in books by practicing at a higher speed. AceReader can track your progress through different levels of reading comprehension. AceReader can help you abandon the reading habit of pronouncing every word in your mind, thus improving your reading skills and speed as a whole.

In the central text mode, the text is displayed in the center of the text area. This mode can be used as an efficient reading tool, making reading easier and faster because your eyes don't need to move. You can use AceReader to read quickly and skim the text in the document or clipboard. AceReader is designed for users of all ages, from busy administrators who need to read more quickly to children who have just learned how to read.
Specifications
Version:

10.5.1

Developer:

StepWare

OS:

License:

Personal Windows Edition
Customer Q&A